Thanks to a slew of recent reforms, the unsold inventory across country's top cities is seeing a faster decline as project launches have reduced. But with realty market improving, home hunters should brace for a rise in property prices.
However, the upcoming festive season may see several launches in the months to come.
"The first quarter of this fiscal marks a record low for units launched across India, even as sales continue to outdo new units getting constructed in a quarter for the sixth consecutive quarter. A total of over 20,000 new units were launched across India's top seven cities during the quarter, while the corresponding number was slightly higher at over 26,000 units in the fourth quarter, last year," said Anuj Puri, chairman of Anarock Property Consultants.
Pankaj Kapoor, managing director of Liases Foras concurs. "The total number of project launches has come down during this year as compared to the last couple of years. On the other hand, unsold stock in tier-I cities has marginally declined, too. Inventory across tier-I cities decreased to 44 months, from 47 in the previous quarter. A decline of 6% also implies that the market sentiment is improving."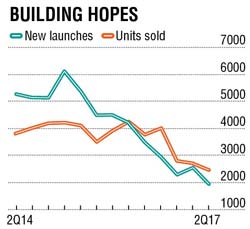 The market is improving despite demonetization, which was believed to have negatively impacted realty sales.
Secondly, implementation of Real Estate (Regulation and Development) Act, 2016 in some states and goods and services tax, too, has acted as a catalyst.
"Roll out of Rera and GST will have a short-term impact in the form of delay of launches due to compliance procedures, but there are medium- and long-term benefits thereafter," a senior industry participant told DNA Money.
Liases Foras's latest residential market report states that 38% new supply was recorded in the cost bracket of Rs 50 lakh to Rs 1 crore, followed by Rs 25 lakh to Rs 50 lakh, which contributed 28%. Mumbai Metropolitan Region (MMR) contributed highest new supply across top 8 tier-I cities at 35%, whereas Kolkata contributed the lowest with 8%.
The unsold stock during April-June 2017 stood 9.53 lakh as compared 9.51 lakh units in the preceding quarter. Across tier-I cities, the stock marginally declined by 0.3%. Pune witnessed a 4% fall, followed by Ahmedabad and Bengaluru at 3%. on the other hand, Chennai saw an increase of 9% in unsold stock, followed by Hyderabad at 4% and MMR 2%.
On pricing front, if quarter-on-quarter weighted average price is compared across the eight cities, there's an increase by a percent. But, if price comparison is done of each of the eight cities, prices declined by 2% in Hyderabad followed by Chennai and NCR at 1%.
The trend of depleting unsold stock is expected to continue due to wait-and-watch mode adopted by developers on Rera implementation. Several states are yet to notify Rera law, making builders market their existing under-construction projects in such states.
Among all the three asset classes – residential, office and retail, the highest under-construction projects are is in the residential asset class at 85%.
SOURCE: http://www.dnaindia.com/business/report-unsold-real-estate-stock-depleting-on-fall-in-new-launches-2537652